String Project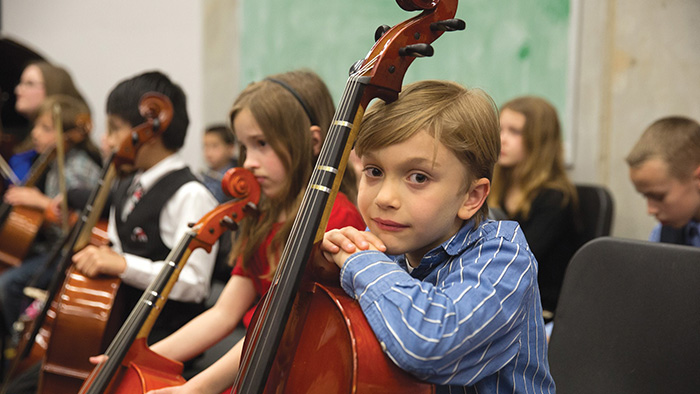 Excellent opportunities for area elementary and MSU music students
The process of learning to play a stringed instrument has been linked to higher test scores in children. It also encourages the personal development of young people by giving them an outlet for self-expression within a structured environment.
The String Project seeks to give area string programs a boost by allowing more children to learn at an earlier age than through existing programs. Because of the modest or subsidized costs of study and the starting age that is three years ahead of the public school programs, more students are offered this opportunity at an age that is optimal for learning. At the same time, MSU music students will gain valuable field knowledge that they can apply later as orchestra teachers or private instructors.
About
The Missouri State University String Project was founded in the fall of 2005 as a partnership between music students at Missouri State University and elementary students in the Springfield area.
All area children in the second, third and fourth grade have the opportunity to learn to play the violin, viola or cello in the string project.
Missouri State University music students lead classes under the supervision of an experienced string teacher.
Schedule
Classes follow the University schedule (observing public school holidays):
Fall 2023 semester
Classes & Locations
Getting started on September 20
New pupils meet on Wednesday, September 20, 2023 at 4:30 p.m. The first meeting is designed to allow pupils to meet the teacher, get fitted for instruments, and ask questions.
Pupils who have been in the String Project for one year or more will start at 5:00 p.m. on Wednesday, September 20, 2023.
Location
Juanita K. Hammons Hall for the Performing Arts at 525 S. John Q. Hammons Parkway, Room 305.
Mondays and Wednesdays
Thirty-minute classes continue Mondays and Wednesdays following the schedule of Springfield Public Schools and Missouri State University.
4:30-5:00 p.m.

5:00-5:30 p.m.

Returning pupils who have studied at least one year
Final Concert
November 29, 2023, 6:30 p.m.
C. Minor Recital Hall in Ellis Hall
Tuition and other requirements
Tuition is $95 per semester and is due and payable by the second class of each term. (Limited need-based scholarships are available.)
Students are responsible for renting or bringing a suitable instrument and purchasing one music book.
Person item component: davidhays
Loading Profile. . .