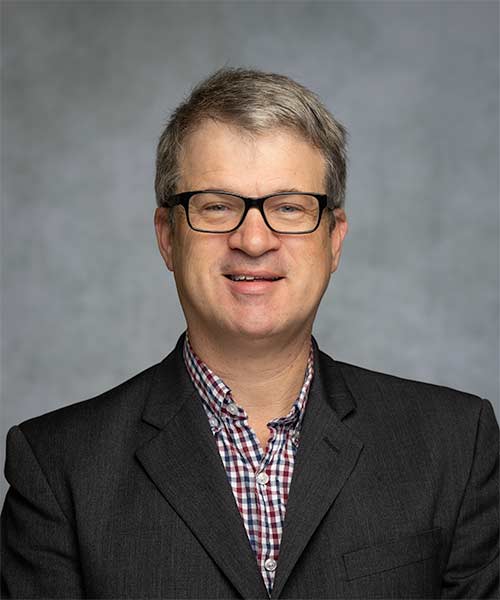 Professor
String Area Coordinator
---
Department
Role: Faculty
Campus: Springfield
---
Postal mail
Missouri State University
Music
901 S. National Ave.
---
Details
Education
DMUS, Northwestern University
MM, Northwestern University
BM, Indiana University
Teaching
MUS 149: String- Violin
MUS 172: Chamber Ensemble
MUS 249: String Instrument
MUS 349: String - Violin
MUS 449: String - Violin
MUS 472: Chamber Ensemble
MUS 498: Senior Recital - Violin
MUS 538: Survey of Pedagogical Methods
MUS 539: String Pedagogy & Instr Lt
MUS 740: Pedagogy Practicum II
MUS 749: String - Violin
MUS 772: String Ensemble
MUS 798: Graduate Recital-Violin
Research and professional interests
A former concertmaster of the BUTI young artists' orchestra at Tanglewood, Dr. David Hays has performed with the Minnesota Orchestra, the Chicago Symphony, and others. As a chamber musician, he has performed live on WFMT Chicago with the Sheridan Chamber Players and was a finalist at the Banff International String Quartet Competition as co-principal violinist of the Fry Street Quartet. As a member of the Hawthorne Trio, he has performed throughout the US, in Poland, the Czech Republic and England. On baroque violin, David toured and recorded with Minneapolis-based Minstrelsy! for nine seasons and has appeared with Temple of Apollo, the Lyra Concert, the Newberry Consort, and the Chicago Baroque Ensemble. David taught violin and chamber music at Northwestern University's National High School Music Institute for fifteen summers and served on faculty at the Oklahoma Summer Arts Institute. He has recorded on the Lyrichord, Musical Arts Society and MSR Classics labels. His CD "Lullaby and Nocturne" with Dr. Peter Collins, piano, was released in 2013. Currently, David serves as concertmaster of the Springfield Symphony. In recent seasons, he has performed solo works by Lalo, St. Saens, Beethoven, Sarasate and Mozart with orchestra and has appeared in China, Bulgaria, New Orleans, Chicago, and Minneapolis.
Awards and honors
Faculty Excellence in Public Affairs Award, Missouri State University Board of Governors, 2013

Collegiate Educator of the Year, Missouri American String Teachers' Association, 2008
College Teaching Award, College of Arts and Letters, Missouri State University, 2002