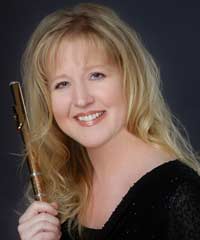 ---
Department
Role: Faculty
Campus: Springfield
---
Postal mail
Missouri State University
Music
901 S. National Ave.
---
Details
Education
Doctor of Musical Arts, Michigan State University, Flute Performance
Masters of Music, Arizona State University, Flute Performance
BA, Luther College, Music Education/Performance
Teaching
MUS 142 Woodwind Class II
MUS 155 Woodwind - Flute
MUS 172 Flute Ensemble
MUS 255 Woodwind - Flute
MUS 272
MUS 355: Woodwind - Flute
MUS 372
MUS 398 Junior Recital-Flute
MUS 455: Woodwind - Flute
MUS 472
MUS 498 Senior Recital - Flute
MUS 538
MUS 599
MUS 658
MUS 755
Professional experience
An advocate of contemporary flute music, Dr. Heyboer has premiered several new pieces by living American composers. Some of these composers include Robert Mueller, Robert Brownlow, Zae Munn, and Alexis Bacon. As a recording artist, Dr. Heyboer has recorded pieces by Villa Lobos on the Naxos label, and Richard Faith on MSR Classics. She also has a solo flute CD of flute music by American composers including music by Brownlow,
Mueller, Amram, Dick, and Persichetti, soon to be released, also on the MSR label.
Prior to her appointment at Missouri State, Dr. Heyboer held teaching and professional
orchestral flute and piccolo positions in both Idaho and Michigan. Dr. Heyboer's educational background includes a B.A. in Music Education from Luther College, an M.M. in Flute Performance from Arizona State University, and a D.M.A. in Flute Performance from Michigan State University. Her primary teachers were Kathleen Cook, Leslie Maaser, Eric Hoover, Brian Gordon and Richard Sherman.
Research and professional interests
Jill Heyboer is Professor of Music (Flute) at Missouri State University, where she teaches undergraduate and graduate applied flute and is the coach and conductor of the many flute ensembles at Missouri State, including the Missouri State Flute Quartet and the Missouri State Community Flute Choir. She is a member of the Borderline Trio, the Hong-Heyboer-Murray Trio and the principal flutist in the Springfield Symphony Orchestra. During the summer, Dr. Heyboer is on the faculty at the Interlochen Arts Camp in Michigan, where she teaches flute and coaches chamber music.
An active clinician, adjudicator and performer, Dr. Heyboer has been an artist/clinician at various flute and music conferences around the country, including the Kansas City Flute Association's Flute Day, the Music Teachers National Association (MTNA) State Convention, Missouri Music Educator's Association (MMEA) State Conference, Washburn University's April Flutes Day, and numerous National Flute Association's (NFA) National Conventions. As a soloist, she has appeared with the Missouri State Symphony Orchestra, the Washburn University Symphony Orchestra the Springfield Symphony Orchestra, and the Interlochen Festival Orchestra. She has been a semi-finalist in the NFA Young Artist Piccolo Competition, the Myrna Brown National Flute Competition, and a winner of the NFA Performer's Competition.
Other interests
Dr. Heyboer is the faculty advisor to the Missouri State Flute Society, a Missouri State student organization made up of flutists that promotes a greater understanding and appreciation of the flute. In addition to other activities, the Flute Society is the sponsor of the annual Missouri State Flute Day. Held every spring, flutists from Missouri State and the surrounding communities gather together to experience a masterclass and recital given by a world-renowned flutist. Guest artists have included Richard Sherman, Mark Sparks, Ervin Monroe, Bonita Boyd, and most recently Greg Pattillo.
Awards and honors
Awarded $1,500 by the Brannen-Cooper Fund, Brannen-Cooper Flutes, 2009
Awarded $1,025 by the SSO Musician's Initiative Fund, Springfield Symphony Orchestra, March 2009
Awarded $750 by the SSO Musician's Initiative Fund, Springfield Symphony Orchestra, 2008
Winner National Flute Association's Performer's Competition, 2008
Awarded $1,500 by SOFAC, MSU Flute Society, 2006
Awarded $1,000 by SOFAC, SMSU Flute Society, 2005
Awarded $650 by SOFAC, SMSU Flute Society, 2004
Semi-Finalist, Myrna Brown International Flute Competition, 2004, 2003
Awarded $1,000 by SOFAC, SMSU Flute Society, 2002
Winner - National Flute Association's Performer's Competition, 2002