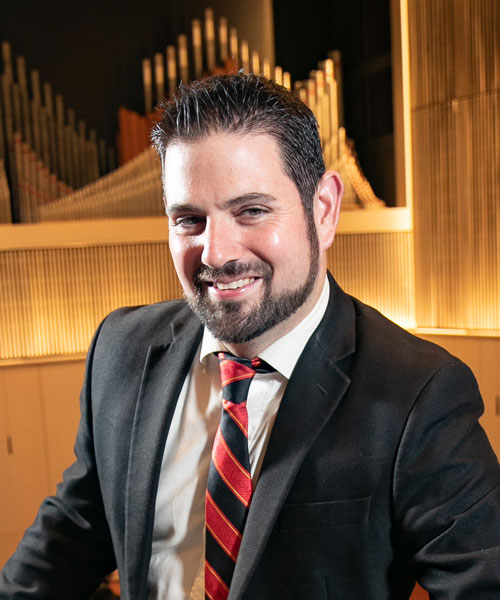 ---
Department
Role: Faculty
Campus: Springfield
---
Postal mail
Missouri State University
Music
901 S. National Ave.
---
Biography
Equally at home as a performer and a teacher, Dr. Jason Hausback has been active in many musical spheres. Prior to his arrival at Missouri State University, Jason was the Adjunct Professor of Low Brass at Eastfield College (Mesquite, TX), and Brookhaven College (Farmer's Branch, TX). He was also a teaching fellow in both the trombone studio and the jazz studies department at the University of North Texas. Under his direction, the U-Tubes won the 2010 Eastern Trombone Workshop National Jazz Trombone Ensemble Competition, and issued their first CD entitled "The U-Tubes" in the spring of 2011. While a student at UNT, Jason was also a member of the internationally-acclaimed One O'Clock Lab Band and was on the recording "Lab 2009," which was subsequently nominated for two Grammy Awards.
Jason is active as a freelancer throughout the mid-south region of the US and performs regularly with The Lone Star Wind Orchestra (TX), Symphony of Northwest Arkansas (AR), The Springfield Regional Opera (MO), Ionic Brass (OK), and Fountain City Brass Band (KS). He has performed solo and quartet recitals at universities and conferences throughout the US as well as in Colombia and Spain. He has also performed in the Southeast Trombone Symposium Professors Choir and in featured ensembles at several different International Trombone Festivals.
Jason has served on the staff of many prominent high school marching bands in Texas, including Marcus HS (2007-2015), Texas 5A/6A State champions five consecutive times. He has worked with several drum and bugle corps, including Capital Sound, the Madison Scouts, Spirit of Atlanta, the Boston Crusaders, and Phantom Regiment. Jason has also been active as an adjudicator for marching band, solo/ensemble and jazz competitions. Most notably, he had the honor of judging the 2015 ITA Carl Fontana Jazz Trombone Competition (Valencia, Spain) as well as the 2019 ITA Kai Winding Jazz Trombone Ensemble and Gilberto Gagliardi Tenor Trombone competitions (Muncie, IN).
---
Details
Education
DMA, Trombone Performance, University of North Texas
MM, Trombone Performance, University of North Texas
BM, Trombone Performance, University of Wisconsin: Madison
Teaching
MUS 156/256/356/456/656/756 Brass (Trombone)
MUS 172/372/672 Brass Chamber Music
MUS 174/374/674 Jazz Ensemble
MUS 399 Low Brass Orchestral Excerpts
MUS 398/498/798 Junior/Senior Recital/Graduate Recital
MUS 538/738 Survey of Pedagogical Methods
MUS 738 Survey of Pre-Col Repertoire
MUS 739/740 Pedagogy Practicum
MUS 790 Graduate Research Project
Research and professional interests
Early music
Tenor and bass sackbuts
The sonatas of Dario Castello
Other interests
Traveling to and performing at locations around the world:
United States
Canada
Bolivia
Colombia
Peru
Spain
Austria
Germany
Italy
Switzerland
France
The Netherlands
England
Finland
Thailand
Awards and honors
Eastern Trombone Workshop National Classical Bass Trombone Solo Competition winner, 2008
ITA Kai Winding Jazz Trombone Ensemble Competition, 2008
Winning trombone quartet "Bell Street Four", ITA Quartet Competition, 2008
S.E. Shires Performing Artist