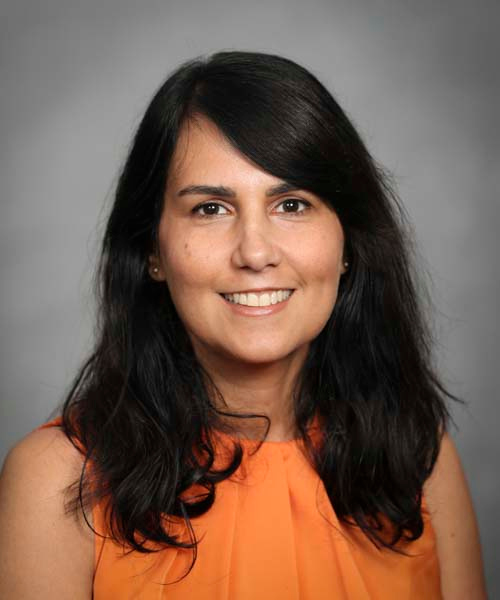 ---
Department
Modern and Classical Languages
Role: Faculty
Campus: Springfield
---
Postal mail
Missouri State University
Modern and Classical Languages
901 S. National Ave.
---
Biography
Dr. Luciane Maimone is an associate professor and the graduate program director in the Department of World Languages and Cultures at Missouri State University. She earned an MS in Hispanic Linguistics and a PhD in Applied Linguistics from Georgetown University. She is also an MSU alumnae, where she completed a graduate certificate in TESOL.
Her research focuses on psycholinguistic aspects of non-native language acquisition, as well as language pedagogy and assessment. She is also interested in educational affordances of online environments, including the role of machine translation tools and telecollaboration, and issues related to language identity and diversity.
---
Details
Education
PhD, Applied Linguistics, 2017, Georgetown University
Teaching
MCL 724 Seminar in Linguistics for Foreign Languages
MCL 710 Research Methods in Applied Linguistics
MCL 706 Materials and Assessments in Foreign Languages
MCL 700 Advanced Foreign Language Teaching Methods
MCL 695 Principles of Second language Acquisition
MCL 691 Principles of Linguistics
MCL 611 Graduate Student Success and Intercultural Competence
Professional experience
American Council on the Teaching of Foreign Languages (ACTFL)
American Association of Teachers of Spanish and Portuguese (AATSP)
American Organization of Teachers of Portuguese (AOTP)
Central States Conference on Foreign Languages Advisory Board
Foreign Language Association of Missouri (FLAM)
Research and professional interests
Language learning, teaching, assessment and testing
Crosslinguistic influence in third language acquisition
Telecollaboration in language learning
Machine translation in second language learning
Heritage languages
Selected Publications:
Maimone, L. & Jolley, J. (in press). Looks like Google to me: Instructor ability to detect machine translation in L2 Spanish writing. Foreign Language Annals.
Jolley, J. & Maimone, L. (2022). Thirty years of machine translation in language teaching and learning: A review of the literature. In E. A. Hellmich, & K. Vinall (Eds.), Special Issue Machine Translation & Language Education: Implications for Theory, Research, & Practice. L2 Journal, 14(1), 26-44https://doi.org/10.5070/L214151760.
Maimone, L., & Zach, A. (2022). Telecollaboration and linguistic gains in postsecondary non-native Portuguese learning. In M. Ferreira (Ed.), Special Issue Telecollaboration in Foreign Language Teacher Education. The ESPecialist (São Paulo, Brazil), 43(1). https://doi.org/10.23925/2318-7115.2022v43i1a7.
Maimone, L. (2019). The quantifier cada in Brazilian Portuguese: Descriptive and comparative analysis for pedagogical purposes. Portuguese Language Journal, 13(1), 144-163.
Awards and honors
Diversity Scholar Award, Missouri State University
Online Educator Award, Missouri State University
FCTL Curriculum Innovation Award, Missouri State University
Distinguished Dissertation Award, Language Learning Journal
Additional resources
---
Area of expertise
Languages