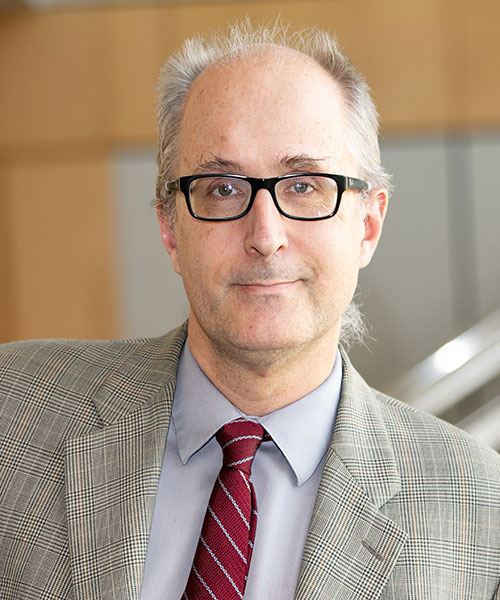 Professor
Blanche Gorman Strong Chair in Protestant Studies
---
Department
Role: Faculty
Campus: Springfield
---
Postal mail
Missouri State University
Religious Studies
901 S. National Ave.
---
Biography
Sociologist Dr. John Schmalzbauer teaches in the Department of Religious Studies at Missouri State University, where he holds the Blanche Gorman Strong Chair in Protestant Studies.
His teaching and research focuses on the role of Protestantism in American society. He is especially interested in the role of religion in popular culture, Protestant evangelicalism, American Catholicism and the place of religion in American higher education. In recent years, his courses have focused on religion in the Ozarks.
He is the author of People of Faith: Religious Conviction in American Journalism and Higher Education (Cornell University Press, 2003). He is completing a book on the return of religion on campus with historian Kathleen Mahoney.
He is also co-investigator on the National Study of Campus Ministries, a survey of campus ministers in six denominations and two parachurch groups. His commentary and reviews have appeared in the Wall Street Journal, the PBS NewsHour's Patchwork Nation Project, and Comment.
His recent publications include chapters for The New Evangelical Social Engagement, edited by Brian Steensland and Philip Goff (Oxford, 2013) and The Post-Secular in Question, edited by John Torpey, David Kyuman Kim and Jonathan VanAntwerpen (NYU Press, 2012).
---
Details
Education
Ph.D. in Sociology, Princeton University, 1997
M.A. in Sociology, Princeton University, 1992 - Passed General Exams "With Distinction"
B.A. in Political Science, cum laude, Wheaton College,1990
Teaching
Ozarks Religion
Religion in America
Religion in Society
Religion, Media, and Popular Culture
Basic Issues in Religion, Self, and Society
Congregations on the Ground: Exploring Local Religious Worlds
Research and professional interests
Religion and American culture
Evangelicalism
Religion in higher education
Popular Culture and religion
Campus ministry
Ozarks religion
Awards and honors
Recipient of subcontract on Lilly Endowment National Study of Campus Ministries grant ($123,000 between 2004 and 2007)
---
Area of expertise
Higher education administration
Religions of the world
---
Media appearances
Religion Thrives on College Campuses
KSMU Radio
01/22/2019
Sociologist Dr. John Schmalzbauer addresses the question: Where does religion stand in the heart of American universities?
---
The Compatibility of Science and Religion
KSMU Radio
11/08/2018
Sociologist Dr. John Schmaltzbauer discusses the compatibility of religion and science, particularly in an academic context.
---
Big Shots, Born Again
Wall Street Journal
10/18/2007
Sociologist Dr. John Schmaltzbauer reviews "Faith in the Halls of Power," a look at the corporate and political rise of evangelicals.
---