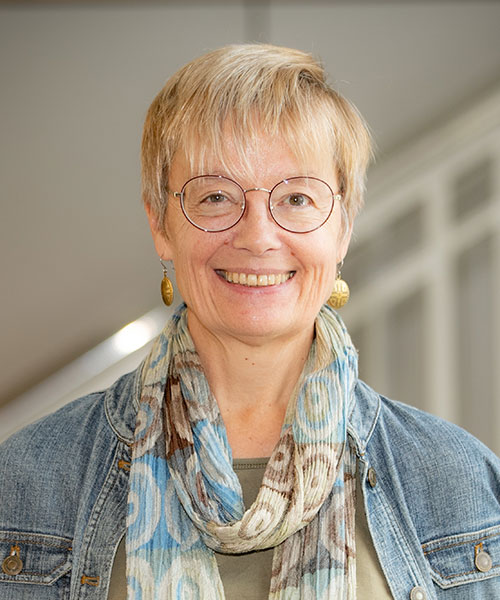 ---
Department
Role: Faculty
Campus: Springfield
---
Postal mail
Missouri State University
Religious Studies
901 S. National Ave.
---
Biography
Dr. Austra Reinis' first book, Reforming the Art of Dying: The ars moriendi in the German Reformation (1519-1528), focused on spiritual care to sick and dying persons in the early years of the Reformation. Having subsequently explored various genres of German Lutheran preaching in the sixteenth and seventeenth centuries, Dr. Reinis has recently turned her attention to the spiritual writings and correspondence of nuns and female rulers, among them Margarethe of Münsterberg, Regent of Anhalt-Dessau (b. 1473 – r. 1516-1530).
---
Details
Education
PhD, 2003, Princeton Theological Seminary
Teaching
REL 100 Introduction to Religion
REL 338 Death, Dying, and Afterlife
REL 340 Christianity
REL 550/655 The Spirituality of Martin Luther and John Calvin
REL 580 Theories of Religion
REL 751 Seminar: Reformation
REL 751 Seminar: Women in the History of Christianity
REL 751 Seminar: Christianity in the Middle East and Asia in the Middle Ages
Professional experience
Selected publications
"Troublesome Books Disrupt Devotional Life at the Convent of St. Mary Magdalene the Penitent in Freiberg, Saxony," in Material Cultures of Devotion in the Age of Reformations, eds. Salvador Ryan, Samantha L. Smith, and Laura Katrine Skinnebach (Leuven: Peeters, 2022), pp. 107-139.
"The Historia vom Leiden, Sterben, Aufferstehung vnd Himelfart Christi of Margarethe, Princess of Anhalt (1473-1530)," Sixteenth Century Journal 51:1 (Spring 2020), pp. 79-108.
"'Such defiant, obstinate disobedience': Martin Luther's Jonah and Michael Helding's recatholization effort in Merseburg," Archive for Reformation History 106 (2015), pp. 156-83.
"Piety and Politics: Aegidius Hunnius's Sermons on the Lutheran Catechism (1592)," Archive for Reformation History 102 (2011), pp. 220-42.
"'Admitted to the Heavenly School': Consolation, Instruction, and Admonition in Aegidius Hunnius's Academic Funeral Sermons," Sixteenth Century Journal 38:4 (2007), pp. 995-1012.
Reforming the Art of Dying: The Ars moriendi in the German Reformation, 1519-1528. St. Andrews Studies in Reformation History. Aldershot, UK: Ashgate, 2007. 290 pp.
Research and professional interests
Awards and honors
MSU 2020 Summer Faculty Fellowship. Stipend for research on letters by Abbess Katharina von Seeberg to Princess Margarethe of Anhalt (1473-1530), 2020
Fulbright Foundation, Washington, DC. Senior Scholar Research Grant for research on correspondence of Princess Margarethe of Anhalt (1473-1530) and teaching a course at the University of Leipzig, Institut für Kirchengeschichte, October 2017-January 2018
Deutscher Akademischer Austauschdienst (DAAD), Bonn, Germany. Research Stays for University Academics and Scientists. Stipend for research on correspondence of Princess Margarethe of Anhalt (1473-1530), October-November 2017
Herzog-August-Bibliothek, Wolfenbüttel, Germany. Stipend for research on Michael Helding's (1506-1561) Ionas Propheta, Summer 2013
Fulbright Foundation, Washington, DC. Senior Scholar Research Grant to complete article on preaching of Aegidius Hunnius at Institut für Europäische Geschichte in Mainz, Germany, March – May 2011
Forschungsbibliothek Gotha, Gotha, Germany. Herzog Ernst Fellowship for research on sermons of Aegidius Hunnius on Old Testament Prophets, Fall 2010
---
Area of expertise
History
Europe