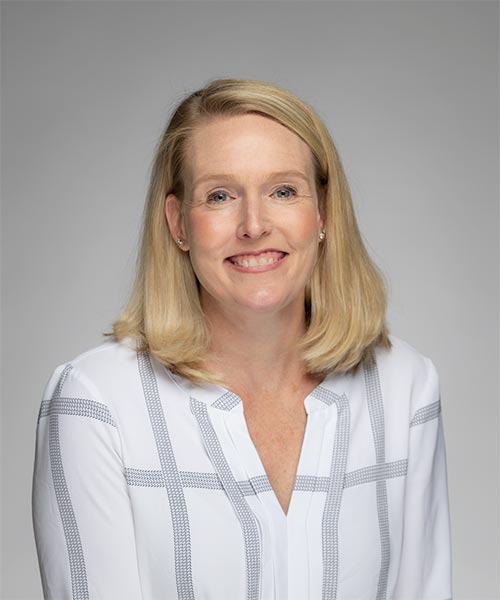 Associate Professor
Assistant Department Head
---
Department
Role: Faculty
Campus: Springfield
---
Postal mail
Missouri State University
Biomedical Sciences
901 S. National Ave.
---
Details
Education
Medical Genetics Residency, 2011, University of Missouri
Pediatrics Residency, 2009, University of Missouri
PhD, 2006, Biochemistry, University of Missouri
MD, 2006, University of Missouri
BS, 2000, Biochemistry, University of Missouri
Teaching
BMS 230 Human Genetics
BMS 231 Human Genetics with laboratory
BMS 232 Human Genetics (lab)
BMS 494 Senior Seminar in Cell and Molecular Biology
UHC 397 Honors Colloquia
UHC 410 Senior Honors Seminar
Research and professional interests
Bone metabolism in Lysosomal Storage Disorders
The role of Homotrimeric Type I Collagen in renal fibrosis
Dr. Amanda Brodeur is a medical geneticist and biochemist with a particular interest in characterizing and further understanding metabolic genetic disorders and their response to treatment. She also has a particular interest in renal pathology. The aim of her research is to gain a greater understanding of the bone abnormalities seen in patients with Hurler syndrome in an effort to improve current therapies or find new therapeutic strategies to further improve their quality of life.
Selected recent exhibitions:
Oestreich ADK, Garcia MR, Yao X, Pfeiffer FM, Nobakhti S, Shefelbine SJ, Wang Y, Brodeur AC, and Phillips CL. Characterization of the MPS I-H Knock-in Mice Reveals Increased Femoral Biomechanical Integrity with Compromised Material Strength and Altered Bone Geometry. Molecular Genetics and Metabolism Reports. Accepted August 2015.
McGreevy JW, Thomas R, Hurst M, Holder C, Smith C, Brodeur AC, Wang JJ, and Delong RK. Aptamer Nanoconjugates: new tools for molecular imaging with potential for early diagnosis of pulmonary emboli.Reviews in Nanoscience and Nanotechnology. 2016 (4):1-15.
Roberts-Pilgrim AM1, Makareeva E, Myles MH, Besch-Williford CL, Brodeur AC, Walker AL, Leikin S, Franklin CL, Phillips CL. Deficient degradation of homotrimeric type I collagen, α1(I)3 glomerulopathy in oim mice. Mol Genet Metab. 2011 Nov;104(3):373-82.
Brodeur AC, Wirth DA, Franklin CL, Reneker LW, Miner JH, Phillips CL. Type I collagen glomerulopathy: postnatal collagen deposition follows glomerular maturation. Kidney Int. 2007 May;71(10):985-93.
Awards and honors
Foundation Award for Teaching May, 2018
Additional resources