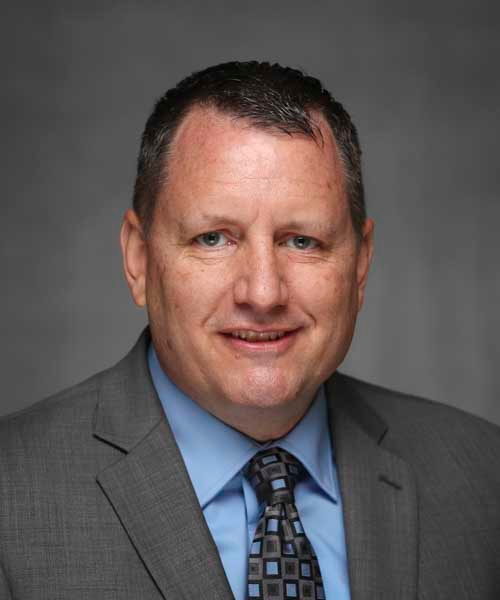 Assistant Professor
Professional Building 342
---
Department
Biomedical Sciences and School of Anesthesia
Role: Faculty
Campus: Springfield
---
Postal mail
Missouri State University
Biomedical Sciences and School of Anesthesia
901 S. National Ave.
---
Biography
Dr. Brooks is a Physician and Surgeon, with two decades of experience in General, Trauma, and Colorectal Surgery. His research program focuses on clinical surgical research.
---
Details
Education
Degrees
MD, University of Michigan Medical School, 1995
BS, Biomedical Sciences, Grand Valley State University, 1991
Residencies
Colon and Rectal Surgery Residency, William Beaumont Hospital, 2000-2001
General Surgery Residency, Wilford Hall USAF Medical Center/University of Texas Health Science Center at San Antonio, 1995-2000
Teaching
ANE 734 Advanced Physical Assessment and Clinical Reasoning
ANE 742 Clinical Physiology
BMS 307 Human Anatomy lab
BMS/OTE 645 Clinical Gross Anatomy
BMS/PAS 717 Medical Human Anatomy
BMS 752 Medical Physiology
Professional experience
Selected published articles
Hegde R, Trombold JM, Brooks JP, Dominguez JM. Colorectal Surgery Review for Primary Care Providers. Missouri Medicine. 117(4):383-387, Jul/Aug 2020
Perry WB, Brooks JP, Muskat PC. The History of Military Colorectal Trauma Management. Seminars in Colon and Rectal Surgery. 15:70-9, 2004.
Brooks JP, Perry WB, Richards ML. Abdominal Distention and Diarrhea in a Young Female. Current Surgery. 61(5):435-438, Sep/Oct 2004.
Brooks, JP, Perry, WB, Putnam AT, Karulf RE. Thermal Imaging in the Detection of Bowel Ischemia. ?Diseases of the Colon and Rectum. 43(9):1319-21, Sep 2000.
Brooks JP, Tripp HJ. Bioabsorbable Weave technique for Repair of Pectus Excavatum. ?Journal of Thoracic and Cardiovascular Surgery. 119(1):176-8, Jan 2000.
Selected published textbook chapters
Brooks, JP, Perry WB. Radiation Injury to the Small and Large Bowel. Cameron JL. ?Current Surgical Therapy, 8th Edition, Philadelphia, 2004, Mosby, Inc.
Selected invited presentations
Cardiovascular Physiology, with Emphasis on Hemorrhagic Shock, Missouri Association of Nurse Anesthetists (MoANA) Spring Meeting '19. Springfield, Missouri, April 2019
Colorectal Surgery for the Surgical Technologist, National Continuing Education Program for the Missouri Assembly of Surgical Technologists. Springfield, Missouri, March 2006
Penetrating Thoracic Trauma: Evaluation and Management, Surgical Management of Knife and Gunshot wounds: A Practical Approach-Symposium Sponsored by East Netherlands Trauma Region. Nijmegen, the Netherlands. August 2002
Research and professional interests
As a Physician and Surgeon, Dr. Brooks's research includes basic science projects with immediate clinical applicability. Two directions of research include point-of-care smartphone thermal imaging in the diagnosis of ischemia and novel uses of hypochlorous acid in medical and surgical infectious disorders.
Awards and honors
Fellow, American Society of Colon and Rectal Surgeons, current
Board Certification, Colon and Rectal Surgery, current
Board Certification, General Surgery, current
Eula and Donald S. Coffee Innovative Research Award, Society for Basic Urologic Research, November 2020
Iron Intern Award, Wilford Hall Medical Center Department of Surgery, 1996
Health Professions Scholarship Program, University of Michigan Medical School/US Air Force, 1991 - 1995
Upjohn Award for Outstanding Academic Achievement, University of Michigan Medical School, 1995
Alpha Omega Alpha, University of Michigan Medical School, 1994, 1995
Dean's Award, University of Michigan Medical School, 1992
Magna Cum Laude, Grand Valley State University, 1991
Outstanding Biomedical Sciences Graduate, Grand Valley State University, 1991