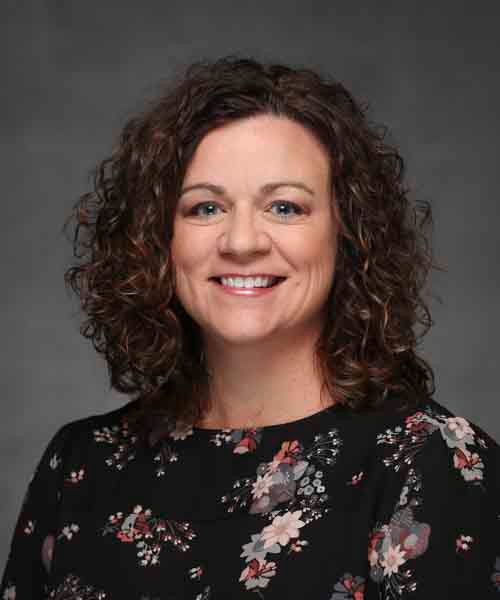 Associate Professor
Associate Program Director
---
Department
Physician Assistant Studies
Role: Faculty
Campus: Springfield
---
Postal mail
Missouri State University
Physician Assistant Studies
901 S. National Ave.
---
Details
Education
MS Physician Assistant Studies, 2003, Missouri State University
BS Exercise Science/Sports Medicine, 1996, Winona State University
Teaching
Clinical Assessment I and II
Clinical Medicine I and II
Principles of Clinical Problem Solving
Laboratory Medicine and Clinical Procedures
Clinical Practicum II
Professional experience
Selected publications
Kahanov, Leamor, and Ellen K. Payne. Athletic Training and Therapy: Foundations of Behavior and Practice. Human Kinetics, 2022. Contributor.
Allen, Natalie B., Hauschildt, Shannon M., Paloncy-Patel, Kristin A., Penkalski, Melissa R. Quality Improvement in AT Education on Female Athlete Triad. Clinical Practice in Athletic Training. Volume 3, Issue 2. Summer 2020.
Allen, Natalie, Hauschildt, Shannon, Paloncy, Kristin, Penkalski, Melissa. Interprofessional Education in Clinical Sports Dietetics: A Case Study Approach. Academy of Nutrition and Dietetics SCAN Pulse. Volume 39, Issue 2. Spring 2020.
Hauschildt, S., Cartilage Tears and Kinesiology Taping: Taping as Part of a Conservative Treatment Approach to TFCC injuries. Chiropractic Economics. 2019; 12: 28-32.
Research and professional interests
Female Athlete Triad
Orthopedics
Interprofessional education