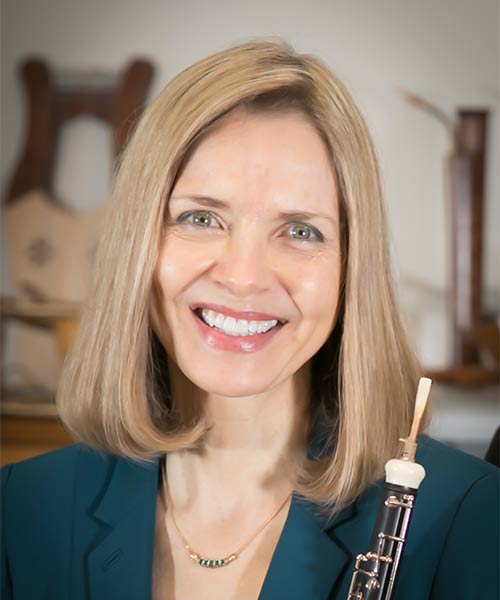 ---
Department
Role: Faculty Emeritus
Campus: Springfield
---
Details
Education
DMA, Eastman School of Music, Oboe Performance
MM, University of Michigan, Oboe Performance
BMA, University of Michigan, Music History/Musicology
Teaching
MUS 103 Theory and Musicianship I
MUS 104 Theory and Musicianship II
MUS 142 Flute and Double Reed Techniques and Skills for the Music Educator
MUS 155-755 Applied Oboe
MUS 239 Introduction to World Music
MUS 309 Introduction to Music and Healing
MUS 399 Special Topics: Women in Music
MUS 172-772 Double Reed Ensemble (Small Ensemble)
Professional experience
Complementing her academic roles, Dr. Libby also serves as principal oboe of the Springfield (MO) Symphony Orchestra. In addition to her academic degrees, she also holds certificates from the Banff School of Fine Arts in Canada and the Berlin Hochschule fuer Musik. A 2007 graduate of the International Harp Therapy Program, she is the only Certified Harp Therapy Practitioner in the state of Missouri, and established the first and only course dealing with the healing power of music at MSU.
Since the 1980s, she has promoted and premiered numerous works by women internationally; more than twenty oboe pieces have been dedicated to her by Libby Larsen, Joan Tower and others. Libby's research has been published in Women of Note Quarterly, The International Alliance of Women in Music Journal, The Journal of the International Double Reed Society, Norton/Grove Dictionary of Women Composers, New Grove Dictionary of Music and Musicians, Harp Therapy Journal and others.
Libby's oboe editions and compact discs are available on the Hester Park and MSR Classics labels at www.vivacepress.com and www.msrcd.com. Her MSR release of Harbach's oboe concerto with the Slovak Radio Symphony was voted "Best Classical Recording of 2008". In 2014, Audiophile Audition's reviewer Paul Kennedy gave her most recent CD, The Lotus Pond: Exotic Oboe Sounds the highest rating of 4-stars.
Research and professional interests
The history and performance of music by women composers
The history and performance of ethnic and early double reed instruments
The history and performance of music for healing and its impact on empathy development in students.
Awards and honors
Faculty Fellow, Office of Citizenship and Service Learning
Additional resources