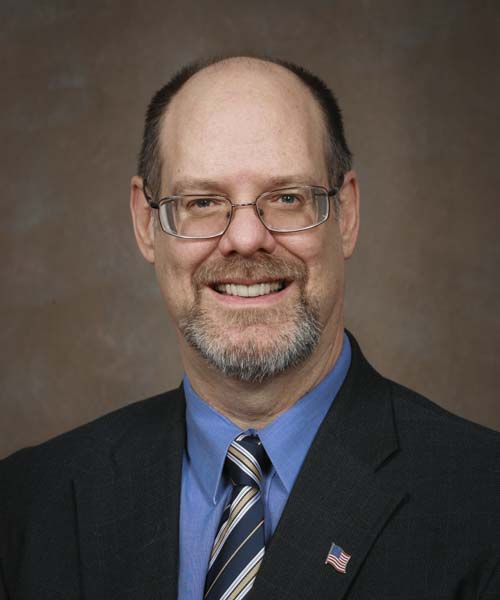 ---
Department
Role: Faculty
Campus: Springfield
---
Postal mail
Missouri State University
Physical Therapy
901 S. National Ave.
---
Biography
Dr. Newton joined the physical therapy faculty at Missouri State University in January 2001. He has been involved in academia for 23 years, teaching PT students for 12 of those years. He holds experience in traditional lecture based instruction and in problem-based instruction.
---
Details
Education
MSPT, 2000, University of Mobile
PhD, Physiology, 1989, Southern Illinois University, School of Medicine
MS, Physiology, 1984, Southern Illinois University, School of Medicine
Teaching
PTE 707 Medical Human Anatomy
PTE 713 Human Development and the Life Cycle
PTE 714 Imaging Analysis in PT Practice
PTE 744 Patient Management Cardiovascular and Pulmonary Problems
PTE 720 Neuroanatomy/Neuroscience
PTE 730 Motor Control/Motor Learning
PTE 873 Patient Management Advanced Differential Diagnosis
PTE 883 Patient Management Critical Integration & Analysis
Professional experience
Dr. Newton serves on numerous departmental and university committees. Currently he is the Physical Therapy representative to the Graduate Council. Additionally Dr. Newton serves as President of the Southwest District of the Missouri Physical Therapy Association. Dr. Newton's clinical practice consists of the treatment of individuals with diabetic peripheral neuropathy and chronic pain.
Professional organizations
American Physical Therapy Association
Missouri Physical Therapy Association
Southwest District of the Missouri Physical Therapy Association
Research and professional interests
Dr. Newton has published articles in the areas of reproductive cell biology, toxicology, circadian rhythms, and neuroendocrinology. He has in the past managed three successful NIH funded laboratories. His current interests are the physiological effects of physical therapy modalities, the neurological and vascular effects of complex regional pain syndrome (CRPS), and sympathetic interaction on vascular compromise. Currently, Dr. Newton is working on two books, the first is a "Handbook of Essential Neuroscience" and the second is a "Textbook of Peripheral Nerve Anatomy."
Publications
Shaw, Jason L. PT, DPT, NCS; Hackney, James M. PT, PhD; Vandeloecht, Kristi Shook PTA, MS; Newton, Sean C. PT, PhD; Rainey, Matthew A. PT, DPT; Reed, Joshua J. PT, DPT; Suess, Dani J. PT, DPT; Tinker, Jennifer N. PT, DPT Is Maximum Available Hip Extension Range of Motion of the Residual Limb Reached During Passive Prone Lying in the Acute Stage After Dysvascular Transtibial Amputation?, Journal of Prosthetics and Orthotics: March 7, 2022 - Volume - Issue - doi: 10.1097/JPO.0000000000000421.
Newton SC and Mayes S. Effects of Anodyne Treatment on Local Blood Flow and Cutaneous Sensation on the foot in a Patient with Peripheral Neuropathy Secondary to Acromegaly. Submitted to Physiotherapy Theory and Practice, July 11, 2019 https://doi.org/10.1080/09593985.2019.1639233.
Bagchi D., Tran MX, Newton S., Bagchi M., Ray SD, Kuszynski CA and SJ Stohs: Chromium and Cadmium induced oxidative stress and apoptosis in cultures J774A.1 macrophage cells. In vitro and Molecular Toxicology 11: 171-18, 1998.
Cocker, CM Church MK, Newton SC, and RG Townley: Glucocorticoids inhibit proliferation and interleukin 4 and 5 secretion by aeroallergens- specific T-helper type 2 cell lines Ann. Allergy asthma Immunol. 80:509-516, 1998.
Newton SC, LL Murphy and A. Bartke. In Vitro Effects of Psychoactive and Non-psychoactive Cannabinoids on Immature Rat Sertoli Cell Function. Life Sciences 53:1429-1437, 1993.
Newton, SC, OW Blaschuk and CF Millette. N-cadherin mediates Sertoli cell-spermatogenic cell adhesion. Developmental Dynamics 197: 1-13, 1993.
Nitta H, D Brunick, RA Hess, SC Newton, CF Millette, Y Osawa, Y Shizuta, K Toda and J Bahr. Germ Cells of the Mouse Testis Express Aromatase, the Estrogen Synthesizing Enzyme. Endocrinology 132:1396-1401, 1993.
Newton SC, MJ Welsh and A Bartke. Effects of age, photoperiod and Follicle-Stimulating Hormone on Lactate Production by Cultured Sertoli Cells from Prepubertal Siberian Hamsters (Phodopus sungorus). J. Reprod. Fert. 95:87-95, 1992.
Newton SC, CF Millette. Sertoli Cell Plasma Membrane Polypeptides Involved in Spermatogenic Cell-Sertoli Cell Adhesion. J. Androl. 13:160-171, 1992.
Newton SC and CF Millette. Quantification of an in vitro Cell-Cell Adhesion Assay Using Interactive Laser Scanning Cytometery. Cytometery 13:209-219, 1992.
Bartke A, A Mayerhofer, S. Newton, D. Mayerhofer, S. Majumdar and V. Chandrashekar. Alterations in the Control and Function of Somatic Cells in the Testis Associated with Suppression of Spermatogenesis in Seasonal Breeders. Annl. N.Y. Acad. Sci. 637: 143-151, 1991.
Murphy LL, SC Newton, J. Dhali and D. Chavez. Evidence for a Direct Anterior Pituitary Site of Delta-9-Tetrahydrocannabinol Action. Pharmacol. Biochem. Behavior 40:603-607, 1991.
Bartke A, A Mayerhofer and S. Newton. Photoperiod-Dependent Changes in Neuroendocrine Function in Seasonal Breeders. Proceedings of the International Workshop on Sites of Action and Effects of Pineal Hormones. Adv. Pineal Res. 4: 197-204, 1990