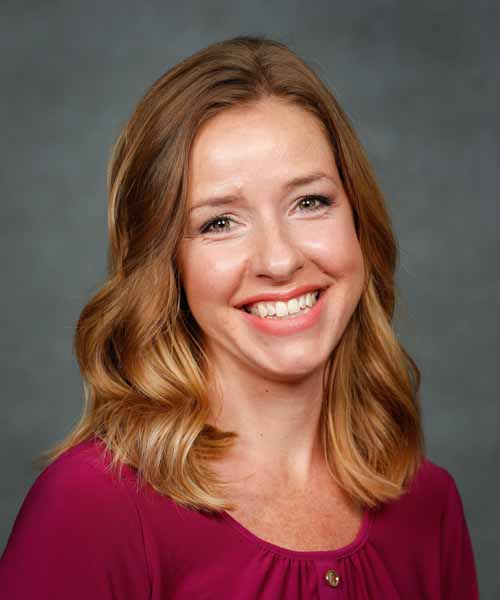 ---
Department
Role: Faculty
Campus: Springfield
---
Postal mail
Missouri State University
Biomedical Sciences
901 S. National Ave.
---
Details
Education
PhD, Biology, University of Missouri-St. Louis
MS, Biology, University of Missouri-St. Louis
BS, Cell and Molecular Biology, Missouri State University
Teaching
BMS 525 Molecular Biology
BMS 625 Molecular Biology
BMS 701 Research in The Biomedical Sciences
Research and professional interests
I am the pre-dental advisor for biomedical sciences program. I'm happy to talk with any pre-dental students about how we can help you reach your goals.
I have a personal and professional interest in making changes within our community and the university that support diversity, equity and inclusion. I am devoted to making our department, college, university and community a welcoming safe place for all people.
I am interested in a post-transcriptional process, called RNA editing. In Adenosine to Inosine RNA editing, select adenosines (As) are altered to a novel nucleotide that is read by the cell as Guanosine. This could alter many facets of the RNA's life, and can even alter the sequence of protein that it encodes. These altered proteins function differently and may affect the physiology of the cell, tissue and organism. We are interested in how RNA editing is altered in response to disease or injury, as well as how RNA editing is regulated differently between different tissues. We believe that subtle differences in RNA editing can influence how an organism functions, therefor, understanding how it is regulated is key.
I have a long-standing interest in diversity, equity and inclusion (DEI) in education. I believe that higher education, in general, has the power to positively influence the world by learning and sharing how diverse and inclusive practices can improve life for everyone. This is particularly true for science, where including people of color as scientists, as subjects, and as learners can improve the process of science, while also benefiting scientists of all races, at all levels.