---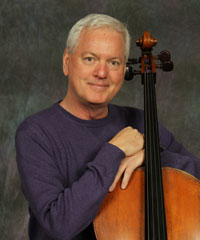 Professor
Juanita K. Hammons Hall for the Performing Arts 404
---
Department
Role: Faculty
Campus: Springfield
---
Postal mail
Missouri State University
Music
901 S. National Ave.
---
Details
Education
Post-Doctoral Study, Harvard University, Seminar: After-Beethoven, Reinhold Brinkmann
Doctor of Musical Arts (DMA), University of Arizona, Cello Performance and Musicology
Master of Music (MM), University of Arizona, Cello Performance
Bachelor of Music (BM), University of Missouri-St. Louis
Teaching
UHC 110 Freshman Honors Seminar
MUS 131 String Techniques and Skills for the Music Educator
MUS 149-449 String (Instrument)
MUS 241 The Language of Music
MUS 249 String Instrument
MUS 315 Form and Analysis
MUS 345 Music in Western Culture and Society I
MUS 472 Small Ensemble
MUS 544 Music of the Baroque Era
MUS 545 Music of the Classical Era
MUS 546 Music of the Romantic Era
MUS 547 Music of the 20th Century
MUS 684 Music of the Baroque Era
MUS 685 Music of the Classical Era
MUS 686 Music of the Romantic Era
MUS 687 Music of the 20th Century
MUS 772 Small Ensembles
Research and professional interests
Professor Michael Murray enjoys a varied career as a performer-scholar, dividing his activity between teaching cello and music history at Missouri State University. He regularly appears throughout the United States and Europe as a soloist and participant in chamber and orchestral settings. The Arizona Daily Star praises "the glowing cello of Michael Murray" with music making at once "phenomenal" and "featuring tightly focused passion and confident projection." The Kansas City Star refers to Murray's playing as "stylish" with "a veloute sauce richness." Rome's Corriere della Sera comments that Murray 'not only demonstrated mastery or his instrument, but also drew beautiful, limpid sounds and elegant phrasing." In addition to an active performing schedule, Murray regularly offers upper-level undergraduate and graduate period courses in music of the Baroque, Classical and Romantic eras. He is a National Endowment of the Arts fellowship recipient for post-doctoral research at Harvard University. Murray's Artist/Scholar Residency in Rome's American Academy led to research in music for cello by Italian composers of the 1930s. His study in critical thinking in the arts led to a presentation of a paper, The Well-Tempered Ear, at the Center for Critical Thinking and Moral Critique at Sonoma State University.

Michael Murray holds a DMA from the University of Arizona, where he studied cello with Gordon Epperson and music history with James R. Anthony.
Awards and honors
Dedicatee of a Published Musical Work, Richard Faith, composer, August 24, 2010
Artist Faculty, Oklahoma Summer Arts Institute, 2011
Missouri London Program, International Studies, August 2009
Artist/Scholar Resident, American Academy in Rome, 2003
Award in Teaching, MSU College of Arts and Letters