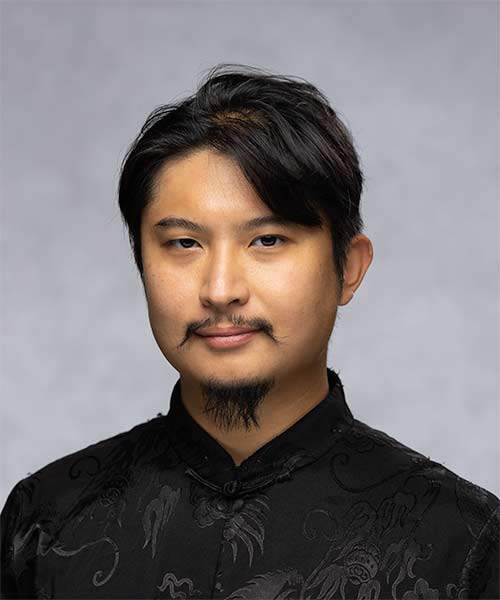 Assistant Professor
Professional Building 338
---
Department
Role: Faculty
Campus: Springfield
---
Postal mail
Missouri State University
Biomedical Sciences
901 S. National Ave.
---
Details
Education
Post-Doc, 2018, Brown University
PhD, 2015, University of Missouri, Columbia
BS, 2010, University of California, Irvine
Teaching
BMS 707, 717 Medical Human Anatomy
BMS 645 Clinical Gross Anatomy
BMS 307 Human Anatomy
Research and professional interests
Dr. Tsai is a comparative anatomist and paleontologist. His research program focuses broadly on the evolution of vertebrate locomotion, with a particular interest in sauropsids (reptiles, birds, and extinct forms such as dinosaurs). The aim of his research is to understand the mechanical functions, kinematics, and developmental significance of appendicular joints in vertebrates.
Morphological convergence and disparity in vertebrate limb joints during body size evolution
Evolution of the sauropsid (reptilian) limb joints and its significance to locomotor postures
Evolution and ontogeny of vertebrate connective tissues
Mechanical behavior and physiology of vertebrate joint soft tissues
Visible Anatomy: Contrast-enhanced soft-tissue staining and imaging technique
Publications
Tsai, H. P., K. M. Middleton, J. R. Hutchinson, and C. M. Holliday. 2018. Hip joint articular soft tissues of basal Dinosauromorpha: evolutionary and biomechanical implications for Saurischia. Journal of Vertebrate Paleontology, 37(6), doi: 10.1080/02724634.2017.1427593
Conference Presentations
Tsai, H. P., M. L. Turner, A. R. Manafzadeh, and S. M. Gatesy. 2018. Significance of hip kinematics for interpreting articular soft tissue function in Alligator mississippiensis. Annual Meeting of the Society of Integrative and Comparative Biology.
Tsai, H. P., K. M. Middleton, and C. M. Holliday. 2017. The cartilage cone of archosauromorphs: implications for hip loading and femoral ossification. Annual Meeting of the Society of Integrative and Comparative Biology.
Invited Presentations
Tsai, H. P. 2018. Dinosaur joints: Soft tissues are the hard issues. California State University San Bernardino. Visiting Research Seminar Series,
Community Outreach
2018. Science on the Silver Screen: Godzilla (2014). Bruce Museum, Greenwich, CT.
2010-14. MU Adventures in Education: a grade K-12 level presentation on vertebrate functional anatomy.
Awards and honors
Edwin H. and Margaret M. Colbert Student Poster Prize, 74th Annual Meeting of the Society of Vertebrate Paleontology, 2014
1st Place, Life Sciences Research Week, University of Missouri, 2013
Doris O. and Samuel P. Welles Research Award, 2012
Jackson School of Geosciences Travel Grant, 2011
Additional resources