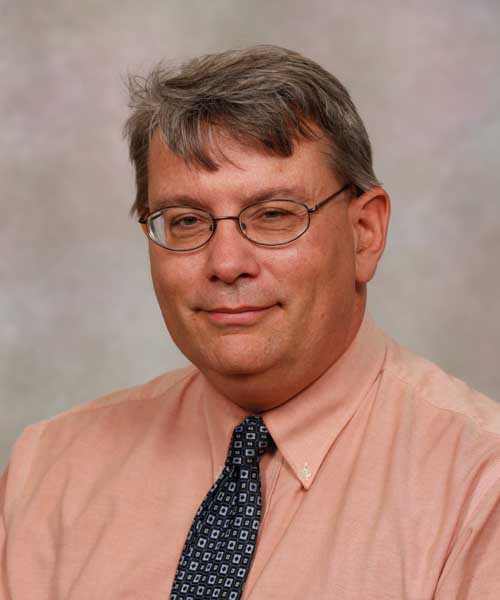 Associate Professor
Director of Forensics
---
Department
Role: Faculty
Campus: Springfield
---
Postal mail
Missouri State University
Communication
901 S. National Ave.
---
Biography
Dr. Eric Morris is associate professor of communication. His Ph.D. dissertation focused on clash strategies in contemporary presidential debates. A number of his publications have also focused on questions related to political or academic debates, including format, audience, constraints, strategies and outcomes. He also directs the Missouri State University debate program.
Beyond debates, his academic interests focus on political communication and public argumentation. His other publications have included work on the framing of liberal and conservative perspectives, rhetoric about terrorism and strategies used to define the meaning of politically relevant events.
---
Details
Education
PhD, Communication Studies, 2004, University of Kansas

MA, Speech Communication, 1993, Kansas State University

BS, Communication & Political Science, 1990, Missouri State University
Teaching
COM 320 Principles of Advanced Debate
COM 321 Inter-Collegiate Debating
COM 328 Persuasion
COM 496 Readings in Communication and Persuasion
COM 532 Teaching Debate
COM 534 Teaching Individual Events
COM 597 Studies in Communication Theory and Practice
COM 696 Independent Study
COM 702 Theory and Research in Communication
COM 716 Rhetorical Analysis in Communication Research
COM 796 Independent Study
Professional experience
Affiliations:
Central State Communication Association (Reviewer Political Communication Division 2011 & 2006)
National Communication Association (Program Planner Cross Examination Debate Association 2006-2010)
American Forensic Association (Finance Committee 2006-2009)
Research and professional interests
Presidential, political and academic debates
Political communication and public argumentation
Published intellectual contributions
Refereed Journal Articles:
Journal Articles:
Morris, E., Bauman, I., Dillon, R., Peterson, D., King, J. (2006). Teaching the undergraduate communication research methods course. Journal of the Speech and Theater Association of Missouri, 36, 115-129.
Awards and honors
National Debate Tournament - Coach of the Year, 2008
---
Area of expertise
Communication
Student affairs