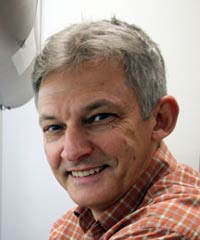 ---
Department
Role: Faculty
Campus: Springfield
---
Postal mail
Missouri State University
Biomedical Sciences
901 S. National Ave.
---
Details
Education
PhD, 1993, Miami University
Teaching
Molecular Cell Biology
Signal Transduction
Molecular Mechanisms of Bacterial Pathogenesis
Senior Seminar
Current Literature Topics
Research and professional interests
Responses to extracellular nucleotides are mediated by specific cell-surface receptors.
P2 receptor subtypes have been classified pharmacologically and can be subdivided into G protein-coupled receptors and ligand-gated ion channels.
P2 nucleotide receptors regulate diverse physiological functions in mammalian tissues, including, neurotransmission, platelet aggregation, vasodilatation and epithelial ion transport.
Examination of the ways in which the P2 nucleotide receptors function at the molecular and physiological levels.