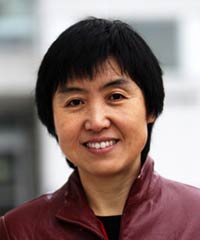 ---
Department
Role: Faculty
Campus: Springfield
---
Postal mail
Missouri State University
Biomedical Sciences
901 S. National Ave.
---
Details
Education
PhD, 2005, University of Missouri-Columbia
MD, 1991, Tianjin Medical University
Teaching
BMS 307 Human Anatomy (lab)
BMS 308 Human Physiology (lab)
BMS 498 Undergraduate Research

BMS 565 Human Cardiopulmonary Physiology

BMS 569 Neurobiology
BMS 585 Histology
BMS 752 Medical Physiology
BMS 798 Research
Research and professional interests
Dr. Wang's research focuses on mechanisms underlying microvascular function in inflammation. Inflammation is associated with various diseases, including cardiovascular disease, diabetes and cancer. Vascular leak or hyperpermeability and increased leukocyte-endothelial interaction are hallmarks of inflammation.
Dr. Wang's laboratory uses animal and cell models to analyze endothelial signaling molecules and biological sex that regulate microvascular permeability and leukocyte-endothelial interaction under resting and stimulating conditions. Multiple research approaches have been employed in her research including intravital microscopy, cell culture, RT-PCR, immunoblot, flow cytometry, and immunostaining.
Awards and honors
Mentor graduate research, Joseph Harvey, Aparna Tiwari, Rintu Thomas, and Spencer Thomas, Einhellig Interdisciplinary Forum Awards, Missouri State University, 2012-2015, 2019
Mentor Undergraduate research, Joseph Harvey, the 3rd place in 2010 Arkansas IDeA Network of Biomedical Research Excellence (INBRE) research conference, 2010
The Organization for the Study of Sex Differences (OSSD) travel award, 2007