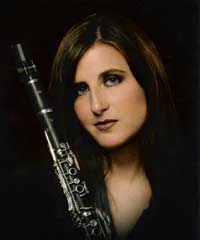 ---
Department
Role: Faculty
Campus: Springfield
---
Postal mail
Missouri State University
Music
901 S. National Ave.
---
Details
Education
Doctor of Musical Arts, Arizona State University, Peformance
Certificate of Performance, Northwestern University
Master of Music, Arizona State University
Bachelor of Music, University of Alberta, Clarinet Performance
Teaching
MUS 141 Single Reed Techniques and Skills for the Music Educator
MUS 155 Woodwind (Instrument)
MUS 172 Small Ensemble
MUS 255 Woodwind (Instrument)
MUS 355 Woodwind (Instrument)
MUS 372 Small Ensemble
MUS 455 Woodwind (Instrument)
MUS 472 Small Ensemble
MUS 538 Survey of Pedagogical Methods
MUS 655 Woodwind
MUS 772 Small Ensembles
Research and professional interests
After studies at Northwestern University and the University of Alberta, clarinetist Allison Storochuk received a Doctor of Musical Arts degree at Arizona State University. Her teachers include Russell Dagon, Dennis Prime, and Robert Spring. As a winner of the 1998 Johann Strauss Scholarship, Storochuk studied at the Mozarteum in Salzburg with Alfred Prinz and Alois Brandhofer. She has performed extensively in Canada, the United States, Japan, England, Australia, Belgium, France, and Austria. She has performed with the Edmonton Symphony Orchestra, Saint Crispin's Chamber Ensemble, Plexoos New Music Ensemble, the Violet Collective New Music Ensemble, and is currently principal clarinet of the Springfield Regional Opera, the Springfield Symphony Orchestra and the Springfield Symphony Orchestra Woodwind Quintet.
Following two years of teaching at the University of Alberta, Storochuk is currently Professor of Clarinet at Missouri State University. She can be heard on the compact discs: Dry Heat on the Potenzamusic label, BASHAW with Saint Crispin's Chamber Ensemble on the Arktos label, howard bashaw form archimage (Artkos), Glossa (CLEF), Piradia – electricilluminata, and is featured on several CBC National Broadcasts.
Awards and honors
Faculty Research Grant, Missouri State University, December 22, 2010
Sabbatical, Missouri State University, February 4, 2009