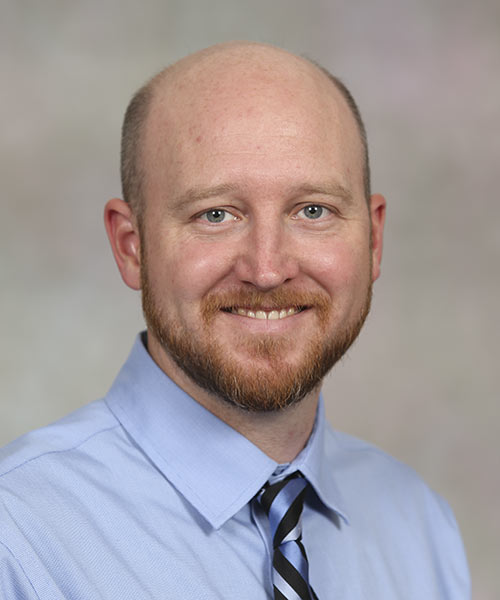 Associate Professor
Mace/Turblex Engineering
---
Department
Cooperative Engineering Program
Role: Faculty
Campus: Springfield
---
Postal mail
Missouri State University
Cooperative Engineering Program
901 S. National Ave.
---
Biography
Dr. Matthew Pierson is a professional engineer and associate professor of engineering. He focuses his civil engineering skills in the areas of geotechnical or water resources engineering. He teaches students about building foundations and engineering properties of soil, also rainfall–runoff relationships, hydrology and river flow.
Pierson's skills and expertise include Mechanically Stabilized Earth (MSE) structures, load testing foundations and computer simulation of geomaterials or rivers. He also has experience in student design teams, K-12 STEM education and community engineering organizations.
---
Details
Education
PhD, Geotechnical Engineering, 2010, The University of Kansas
MS, Geotechnical Engineering, 2008, The University of Kansas
BS, Civil Engineering, 2006, The University of Kansas
Teaching
CE 3116 Construction Materials
CE 3330 Fluid Mechanics
CE 3334 Water Resources Engineering
CE 3715 Geotechnical Engineering
CE 4729 Foundation Engineering
CE 5338 Hydrologic Engineering
CE 5715 Intermediate Soil Mechanics
Engineering Geology
Research and professional interests
Additive manufacturing
Computer simulation of deep foundations and MSE walls
Computer simulation of rivers and remediation of contaminated river sediment
Direct tension testing of fiber reinforced concrete
Drone surveying
Lateral load testing of deep foundations
Mechanically stabilized earth (MSE) walls
Stormwater control measures
Awards and honors
CNAS Student Nominated Award for Faculty/Staff Excellence, Missouri State University, 2020
CNAS Faculty Excellence in Service Award, Missouri State University, 2019
CNAS Faculty Excellence in Service Award, Missouri State University, 2017
Guy Mace/Turblex Engineering Professorship, 2016-2020
Foundation Award for Excellence in Service, Missouri State University, May 2015
Scholarships and grants
SpahrBorel Graduate Fellowship Fund ($7,000)
Conference Scholarship, Deep Foundations Institute Trust
Bert and Dorothy Steves Memorial Scholarship ($3,500)
Spahr-Borel Graduate Fellowship Fund ($3,500)
Bellows Fellowship ($5,000), KU Civil Environmental and Architectural Department
Preston T. Bennett Scholarship ($2,000), KU Endowment
Professional organizations
American Institute of Steel Construction
American Society for Engineering Education
American Society of Civil Engineers
Missouri Society of Professional Engineers
The University of Kansas Geotechnical Society