Dr.

Elizabeth B. Federman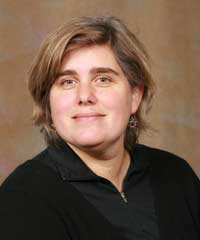 Email
ElizabethFederman@MissouriState.edu
Office
Department
CHHS-Master of Public Health
Postal mail
Missouri State University
CHHS-Master of Public Health
901 S. National Ave.
Springfield
,
MO
65897
work
Education
ScD, Psychiatric Epidemiology, 1995, Johns Hopkins Bloomberg School of Public Health
B.A., Psychology with English Literature, 1988, Swarthmore College
Teaching
Epidemiology
Biostatistics for the Health Sciences
Software Applications & Data Sources in Public Health
Research Methods
Chronic Disease Epidemiology
Professional experience
Selected Publications:
Brown E, Nonnemaker J, Federman EB, Farrelly M, Kipnis S. Impact of tobacco-free regulation on attitudes, practices, and services provided in substance use disorder treatment facilities. Journal of Substance Abuse Treatment 2012;42:319-27.
Wagner TH, Harris KM, Federman B, Dai L, Luna Y, Humphreys K. Prevalence of substance use disorders among veterans and comparable non-veterans from the National Survey on Drug Use and Health. Psychological Services 2007;4:149-57.
Piper ME, Federman EB, McCarthy D, Bolt DM, Smith SS, Fiore MC, Baker TB. Efficacy of bupropion alone and in combination with nicotine gum. Nicotine & Tobacco Research 2007;9:947-54.
Bray RM, Bae KH, Federman EB, Wheeless SC: Regional Differences in Alcohol Use Among U.S. Military Personnel. Journal of Studies on Alcohol 2005;66:229-38.
Jordan BK, Federman EB, Burns BJ, Schlenger WE, Fairbank JA, Caddell JM. Lifetime use of mental health and substance abuse treatment services by incarcerated women felons. Psychiatric Services 2002;53:317-25
Ouimette, P., Humphreys, K., Moos, R.H., Finney, J.W., Cronkite, R., Federman, B: "Self-help group participation among substance use disorder patients with posttraumatic stress disorder." Journal of Substance Abuse Treatment2001;20:25-32.
Federman EB, Bray RM, Kroutil LA: Deployment and substance use among military women and men. Military Psychology 2000;12:205-20.
Ennett ST, Federman EB, Bailey SL, Ringwalt CL, Hubbard ML: Profiles and correlates of Human Immunodeficiency Virus risk in runaway and homeless youth. Journal of Adolescent Health, 1999;25:344-53.
Federman EB, Costello EJ, Angold A, Farmer EMZ, Erkanli A: Great Smoky Mountains Study: Development of substance use and psychiatric comorbidity in two ethnic groups. Drug and Alcohol Dependence 1997;44:69-78.
Lyketsos K, Federman EB: Psychiatric disorder and HIV infection: Impacting one another. Epidemiologic Reviews 1995;17:152-64.
Research and professional interests
Comorbidity of substance use and psychiatric disorders
Application of epidemiologic methods in program evaluation
Tobacco cessation and control
High risk populations
Mental health services
Awards and honors
2001-2002 - Post-doctoral trainee, National Cancer Institute Training in Cancer Biostatistics, University of Wisconsin Madison (Dr. Richard Chappell, adviser)